Mega Systems, Inc. is happy to be hosted by Dynamic Productions and Streetwise to bring our fixtures to Pomona, New York alongside D.A.S. for a day of demos and one-on-one training.
Palisades Credit Union Park


1 Provident Bank Park Dr.
Pomona, NY 10970
Thursday July 7th, 2016


2pm – 8pm

Gear on Display

Mega Systems Inc. will be showing off our Dicolor video walls, PR Lighting moving heads and Mega-Lite LED fixtures. From Dicolor we will be showing off our Phantom Panel 5.9 – a vivid display designed for outdoor production. From PR Lighting we will be displaying our XRLED Series including the XRLED 300, XRLED 500, and XRLED 700- a series of spots that feature powerful LED beams, color wheels, gobos and more! We will also be showcasing our new Mega-Lite fixtures including the Nova-Lite VW150, the Axis Grid, and the Tuff Baby series. The Nova-Lite VW150 is a powerful variable white LED fixture with extremely wide coverage. The Axis Grid is a superb new eye-candy fixture with infinite pan and tilt. And finally, the Tuff Baby series is made up of two small but powerful LED lights: the Tuff Baby P-84 and the Tuff Baby Q-60. Both fixtures are weathered for outdoors yet quiet enough for indoors.
And be sure to check out all of D.A.S.'s audio gear – one of the products on display will be the AERO-40A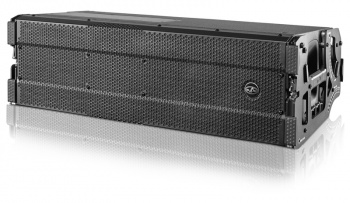 -Advanced Line Array System ALAS™
-Powered, three-way configuration
-Class D power amplifier 1000W LF, 500W MF, 500W HF
-Powerful DSP with Brickwall FIR Filters
-Remote monitoring and control via DASnet™
-One 12″ loudspeaker with neodymium magnetic assembly
-One 8″ loudspeaker with neodymium magnetic assembly
-Twin M-75N Neodymium compression driver with 1.5″ exit
-New SERPIS BPS-2912 high freq plane wave generator